TIM MÄLZER KAMAGATA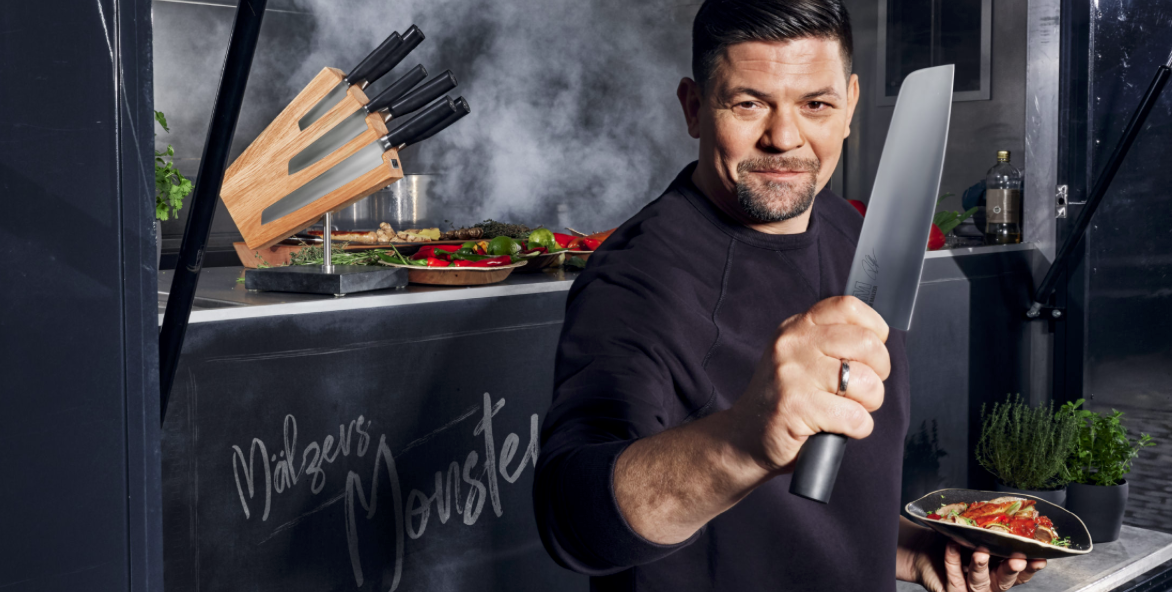 Tim Mälzer's Kamagata kitchen knife series convinces with high functionality, robustness and minimalist aesthetics.
With its essential design, the knife collection focuses on the essential features for working efficiently in the kitchen.
The typical blade design was designed directly by Tim Mälzer from the start and made in Japan over many years of development.
The significant upper curvature of the blade gives the knives a distinctive profile.
The name "Kamagata" (from the Japanese "sickle-shaped") comes from this particular shape.
The blades are in stainless steel with a polished finish. In combination with the black handle, the knives have a functional and essential appearance and guarantee excellent handling and ergonomics.
Thanks to the special design of different blade shapes, Tim Mälzer's Kamagata series offers the right knife for every use.
The beautifully shaped blades are forged from 4116 stainless steel. They have a hardness of 57 (± 1) HRC and are therefore corrosion resistant.
Tim Mälzer's logo and signature are applied to the blade and, together with the satin finish, complete the refined high-quality aesthetic.
The polished handle is ergonomic and suitable, thanks to its symmetrical alignment, for both right and left handed.
It is comfortable to hold and allows for a safe and comfortable grip while working. The balanced balance between handle and blade makes the cut particularly soft and agile.
The POM glossy plastic handle material is water resistant, hygienic and very easy to care for.
The Tim Mälzer "Cooking Bull" logo engraved on a metal emblem graces the end of the handle and gives it a particularly refined touch.