CHEF'S CASES - KNIVES BLOCKS - SETS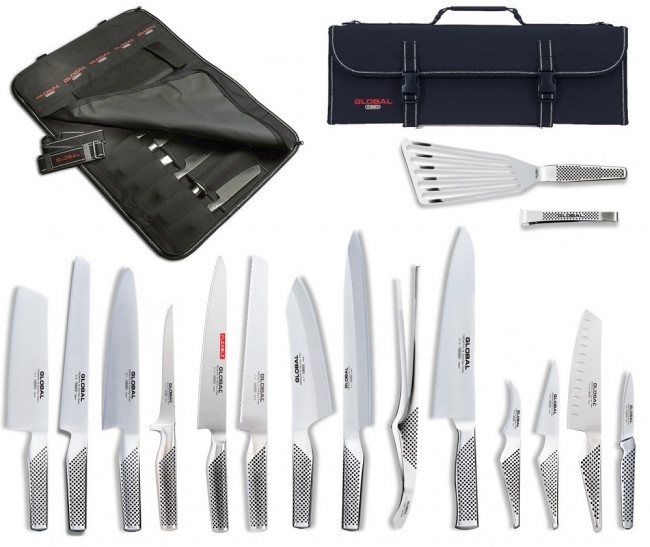 In a good chef's case or set, these forms are definitely indispensable:
a straight or curved paring knife, a vegetable knife with a short blade, a santoku knife for mincing and chopping, a medium or large chef's knife, a serrated bread knife and a knife for cutting meat.
To complete the range, if you also choose to work the fish, you need a knife to be threaded with a flexible blade, typically western type; the flexible blade is not used in Japanese cuisine.
In case you want to work the meat, like small or large birds or slices of meat to be degreased or boned, a medium-sized boning knife is the one that must be present in a set.
All knives for the traditional kitchen have a symmetrical blade, a sharp edge and a balanced handle.
If you prefer the Japanese cuisine and sushi preparation, it is good to have one or two knives with an asymmetric blade in your knives set; the most used forms are the Deba and the Sashimi-Yanagiba, knives perfectly suited to the processing of fish, the first good for robust cuts and parting off, the second perfect for slicing raw fish.

In the academies and cooking schools or in the many courses where you learn national and international cuisine, the bakery and pastry, each student must have his own set of knives or complete suitcase and tools appropriate to the discipline he must study.
The cooking student, future cook or professional chef, must necessarily have his own personal knives case, well set up, with knives suitable for all types of cuts and some kitchen accessories, to make each recipe a success.